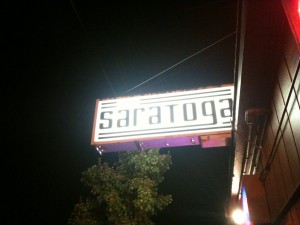 Need a good first date idea? This is not it. It's more like the third date when you're ready to see what your person is made of.
Smutty Clown Comedy at Saratoga Bar isn't for the faint of heart, nor is it for the politically correct. Seriously. Do not bring that special someone who is canvassing for any sort of human rights. You will be dumped. Immediately.
But if you're looking for a fun and kooky way to spend a Thursday night and you can handle straight cisgender guys yelling "you all are cunts" into the microphone, this may just be your place.
Billed as a monthly X-rated open mic, Smutty Clown is hosted by Sterling Clark and Whitney Streed. Clark is pretty much adorable – on this night she was wearing a floral dress and cardigan, hair in a head scarf with large glasses aka Sally Jessy Raphael. Streed was walking around in a suit, looking like she knew everyone in the place.
Continue reading »