I may not be much of a sports buff, but when jock ladies are actually in the buff that's a while different matter. And actually I'm riding the wave of women's soccer enthusiasm too, just because we kick so much ass. So I may be a sports fan yet. It certainly helps when America's favorite (lesbian, though not officially out I suppose, though I get so tired of the distinction when they're really pretty much out) goalie, Hope Solo, poses naked for ESPN.
Solo is one of 22 athletes featured in ESPN The Magazine's third-annual Body Issue, on stands today. She is currently in the spotlight on two fronts,  starting goal keeper for the U.S. Women's National Soccer team and current competitor in this season's Dancing with the Stars on ABC. Who do we root for? Chaz or Hope?! Oh, the important questions in life. Well, the shallow part in me definitely says Hope after seeing these shots…
When asked about being a sex symbol Solo responds:
I still don't buy the idea that I'm a "sex symbol." It's amazing that there are so many beautiful bodies out there on the female athletic side, and it's great that they are starting to get attention. But sex symbol? I don't know where that came from. My entire purpose is trying to be the best in the game, and if that exudes beauty too, that's pretty powerful. It means the image of the typical female body type is finally evolving.
The cover shows Solo in a cleverly concealing action pose. There's nothing covered about her muscles though, and the definition they show in places I didn't even know could be chiseled. Her eyes are shadowed in a way that's a but scary as well but it's good to have a little fear of your athlete crushes I think.
The other shot, as inexplicable as it is hot, shows Solo watering the lawn in the nude. Garden hose jokes aside, I want to know where that neighborhood is. My kids definitely want to go to school there.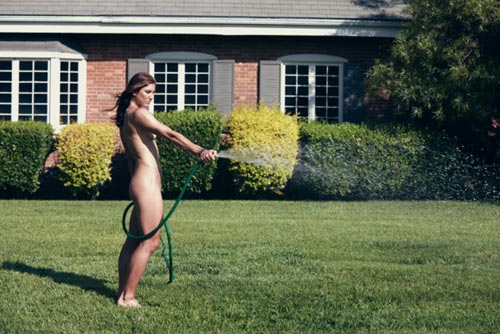 Oh, and this one, just an outtake. No big deal.
You can hear from Hope herself why she decided to pose and how she's excited for women's sports to get more attention in the video below. There's also more photos of lady athletes, videos, interviews and more at the ESPN site.