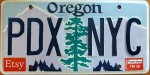 Liz Gold, a New Yorker and part-time Portlander, will be swinging through town to catch some cultural activities for qPDX. She also plans to write an occasional column discussing how to be in a cross-country relationship. So stay tuned!
The Amp Up.
This is the best part.
My partner, Captain, lives in Portland. I live in Brooklyn.
Think about that for a minute.
It's far. Like 2,500 miles far. But it's really when I'm on the plane staring at Iowa on the distance map Jet Blue provides that I realize, holy crap, we really live far apart.
Otherwise it's pretty normal for us. And he doesn't ever seem that far away.
We are bicoastal and open/polyamorous. I consider him my primary partner, though I'm not a big fan of that language. Typically we see each other every six weeks – for anywhere between 10 days to six weeks depending on our schedules and circumstances – and we both travel to each other's respective homes.
The longest time we were apart was at the very beginning of our two and a half year relationship and that was for nine weeks. We both agreed that was too long. As a result, we've found a length of togetherness that works for us – just enough to feel we are getting ample quality time with each other, yet not too much where we start to get outrageously itchy for our autonomy.
Continue reading »