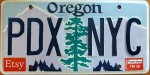 Liz Gold, a New Yorker and part-time Portlander, will be swinging through town to catch some cultural activities for qPDX. She also plans to write an occasional column discussing how to be in a cross-country relationship. So stay tuned!
The Amp Up.
This is the best part.
My partner, Captain, lives in Portland. I live in Brooklyn.
Think about that for a minute.
It's far. Like 2,500 miles far. But […]