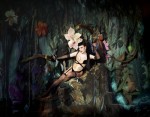 QDoc, the only Queer Documentary Film Festival in the US starts in P-Town this Thursday. For its 5th anniversary the fest will feature 11 screenings and an opening party with opening night film star and drag and performance art sensation Joey Arias accompanied by local musical genius Thomas Lauderdale of Pink Martini. After seeing opening film Arias with a Twist I can safely say that you don't want to miss Arias in the flesh. And in addition to the live performances the Mother's Bistro (212 SW Stark) party will also have delicious, complimentary hors d'oeuvres and beverages.
Just Out has a great overview of the fest, including an interview with Joey Arias and a check-in with the organizers. We'll have reviews of most films posted daily as well as an interview with former Hole drummer Patty Schemel, who's film Hit So Hard screens Friday.
Thanks to a generous grant from the Equity Foundation, QDoc is offering 20 FREE tickets for EACH QDoc film for youth ages 23 and under.  Youth can reserve FREE tickets in advance by emailing QDocYouth@gmail.com.  Also, a limited number of FREE youth tickets will be available at the door for each film on a last-minute basis.
You can also get an idea of what to expect from QDoc's 2011 trailer.
So stay tuned and check out the entire lineup below:
Continue reading »