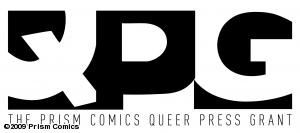 Prism Comics is proud to announce that submissions are still being accepted for the 2010 Prism Comics Queer Press Grant, with a deadline of September 15th, 2010. The QPG was established by Prism to assist in the publication and promotion of lesbian, gay, bisexual and transgender comics.
"The Queer Press Grant continues to be one of the most significant grants dedicated to supporting independent comic books," says Justin Hall, Prism's Talent Relations Chair. "The Grant is given to a cartoonist, comics writer/artist or team working on a project with LGBT characters or themes, to assist them in publishing a new project or expanding an existing one. Since 2005, the annual Grant has provided recipients with a substantial sum of money, which has varied according to our fundraising efforts; for the past two years, we have awarded $2000, our highest Grant amount, and hope to continue to increase the amount with the generosity of our donors."

The Grant's submission deadline has been moved to September 15th this year so that the recipient can be announced during the Alternative Press Expo on October 16th and 17th in San Francisco. Prism has also introduced an online submission system ths year that significantly streamlines the application process and ensures complete submissions.
Entries are judged first and foremost by artistic merit, followed by concerns such as financial need, proposal presentation, and the project's contribution to the LGBT community. They are reviewed by the Prism Board and past recipients of the Grant, with the larger advisory board brought in when tiebreakers are needed.
For a full breakdown of the Grant's guidelines and to fill out an application, please go to prismcomics.org/grant. Questions about the grant can be directed to Justin Hall at justin@prismcomics.org.
The Queer Press Grant is funded entirely by donations, generally from comic book professionals and readers. Contributions are accepted from those who want to support Prism's effort to encourage new and under-appreciated talent. Prism reaches out to the greater LGBT community in particular, who acknowledge the challenges LGBT comics face in an environment in which queer stories and their creators still struggle for acceptance.
If you would like to support the cause of innovative LGBT comics and cartooning and donate to the Queer Press Grant, please go to prismcomics.org/donate.php or donate through Prism's Facebook Causes page for the 2010 QPG.
Since its inception, the Queer Press Grant has been awarded to Ed Luce (2009: Wuvable Oaf), Eric Orner (2009: Storybox), Pam Harrison (2008: House of the Muses), Justin Hall (2007: Glamazonia), Tommy Roddy (2007: Pride High), Megan Gedris (2006: YU+ME), and Steve MacIsaac (2005: Shiftlifter).