Trans Bodies, Trans Selves – a Transgender Resource Guide – is hosting a Community Involvement Forum in Portland tomorrow, January 29th, to ensure all voices are represented in this revolutionary book project.
Trans Bodies, Trans Selves is a groundbreaking resource guide in-progress, being written by and for trans people. Chapters range from identities to understanding legal and medical systems, to relationships and sexuality, to youth, activism, and gender theory, this book will also include personal stories, responses from thousands of surveys completed online, and transgender historical tributes and art. The book is being created by over thirty authors, and forty-five advisors and counting.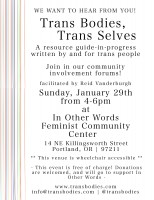 All who are involved are volunteers and understand how important it is to carve out accessible spaces for marginalized communities to interact with the editors and authors and ensure the final draft is as inclusive and representative as possible.
The team behind Trans Bodies, Trans Selves extends the invitation to all communities who identify with any of the issues within this publication, or as allies, to the Portland forum. This event will be taking place on Sunday, January 29th, 2012 at In Other Words Feminist Bookstore and Resource Center (located at 14 NE Killingsworth) from 4pm – 6pm. This forum will be facilitated by Reid Vanderburgh, local trans therapist and author of the book's chapter on coming out.